National High Performance Programs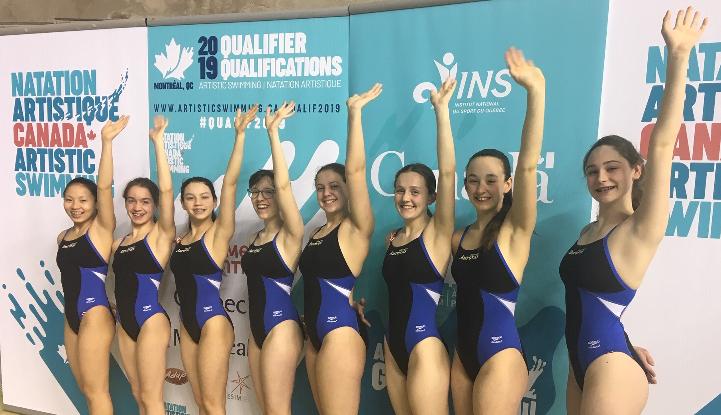 The Auroras' National Stream is for experienced athletes who want to compete at a national level and specialize in synchronized swimming. The Edmonton Aurora Synchronized Swim Club is the only club in northern Alberta to offer team training of synchronized swimming at the national level. Athletes train all aspects of the sport in a team environment; improving their concept of commitment, respect, and team work. Athletes at this level also receive regular coaching from National and Olympic coaches.
Focused on pursuing excellence, National Stream athletes compete at provincial and national competitions. At the final national championship many Aurora athletes have an opportunity to try out for provincial or national teams. In 2019, 1 member invited to the National Team training camp, and 4 members invited to the Provincial Team training camp. National Stream athletes also qualify for scholarships at some United States universities.
National Stream athletes train 6 days per week: Monday to Saturday.
Summary of Events:
October 25-28 WaterBeauties Performance Camp in Las Vegas.
November 11-13 National Stream High Performance Camp in Edmonton (Sheilagh Croxon)
November 30 City of Calgary Figures Meet
December 2 Winter Water Show
December 20 - January 5 Christmas Holidays
January 31 - February 2 National Stream Provincial Qualifiers in Calgary
February 27 - March 1 National Stream Provincials in Edmonton
March 23-29 National Qualifiers in Markham, Ontario
May 3-10 Nationals in Quebec City, Quebec
By Clicking on the link below, you will be routed to the Ramp Interactive Registrations Website.
Registration for the 2019-2020 season is now open on RAMP, our new interface and website for the Club! Have a look at the RAMP registration website at www.rampregistration.com/login.
Please note the following when registering your daughter(s):
-Registration on Team Unify is no longer available
-All members will be required to set up an account with RAMP, which you will use to register, pay and view your account invoices
-if you already use the RAMP interface (perhaps through another sport) you will be expanding your profile when you log in, but you do not need to create a new account
-at the time of registration you will need to choose the program you wish to register your daughter in. For example, Wildrose 4x week, National Stream 13-15, etc.
-your credit card will be charged $125 (Provincial Stream) or $225 (National Stream) plus $2. The $125 or $225 pays for the registration with Synchro Alberta, and the $2.00 is for the inital charge (just the way the system is set up) for the Bingo and meet fees that we all pay come the fall. The $2 will go towards your monthly charge for bingo and meet fees
-any credits (for example bingo credits) or money owing on your account today with Team Unify will transfer over once you have registered on the RAMP site. I cannot do it in advance-sorry!
You are required to have a Respect in Sport for Parents certificate number. If you haven't taken the course yet, click HERE