National Competitive Programs
---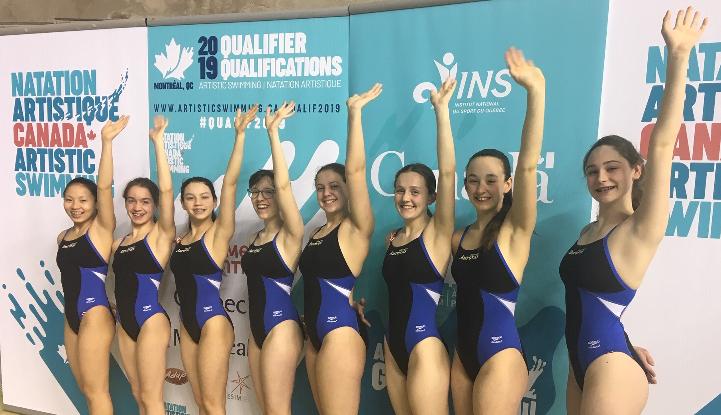 The Auroras' National Stream Competitive Program is for experienced athletes who want to compete at a national level and specialize in synchronized swimming. The Edmonton Aurora Synchronized Swim Club is the only club in northern Alberta to offer team training of synchronized swimming at the national level. Athletes train all aspects of the sport in a team environment; improving their concept of commitment, respect, and team work. Athletes at this level also receive regular coaching from National and Olympic coaches.
Focused on pursuing excellence, National Stream athletes compete at provincial and national competitions. At the final national championship many Aurora athletes have an opportunity to try out for provincial or national teams. In 2019, 1 member invited to the National Team training camp, and 4 members invited to the Provincial Team training camp. National Stream athletes also qualify for scholarships at some universities.
To understand more about this level of swimming, see the Auroras Pathways.
The Aurora Advantage:
Aurora competitive athletes participate in ACRO classes with a certified ACRO instructor, swim technique with a former high level competitive swim coach and ballet with a certified ballet teacher.
Training
13-15 Team (Birth years 2007-2009)
Training Days
Times
Location

Monday

Tuesday

Wednesday

Thursday

Friday

Saturday

4:00-7:00pm

4:00-7:00pm

4:00-7:00pm

4:00-7:00pm

4:00-7:00pm

8:00-11:00am

All practices are at Kinsmen Sport Centre, six days a week
Junior/Senior Combo National (Birth years 2006, 2005, 2004, . . .)
Training Days
Times
Location

Monday

Tuesday

Thursday

Friday

4:00-7:00pm

4:00-7:00pm

4:00-7:00pm

4:00-7:00pm

All practices are at Kinsmen Sport Centre
Fees and Registration Details for National stream swimmers (subject to change before September, 2021)
Fees are broken down into 9 monthly payments
| | | | | | |
| --- | --- | --- | --- | --- | --- |
| Team | Seasonal Fees | Meet fee | Bingo fee | Security fee | Admin fee |
| National 13-15 | $3613 | $4725 | $720 | $500 | $119 |
| Junior/Senior Combo National | $3200 | $4725 | $480 | $500 | $119 |
Events
Winter Holidays: December 20 - January 2
The Northern Lights Event: Jan 27th-30th, 2022
The Rocky Mountain Qualifier: Feb 24th-27th, 2022
The Canadian Qualifier: March 28-April 2, 2022 (Saskatoon)
Canadian Championships- May
Water shows occur in December and April during Saturday practice. Dates are TBD
Registration details and additional fees
Please note the following when registering your child:
All members will be required to set up an account with RAMP, which you will use to register, pay and view your account invoices
If you already use the RAMP interface (perhaps through another sport) you will be expanding your profile when you log in, but you do not need to create a new account
At the time of registration you will need to choose the program you wish to register your child in - for example, Wildrose 3x week, National Stream 13-15, etc.
TBA other fees
You are required to have a Respect in Sport for Parents certificate number. If you haven't taken the course yet, click HERE.
If you have any programming questions email the head coach.