Provincial Competitive Programs
---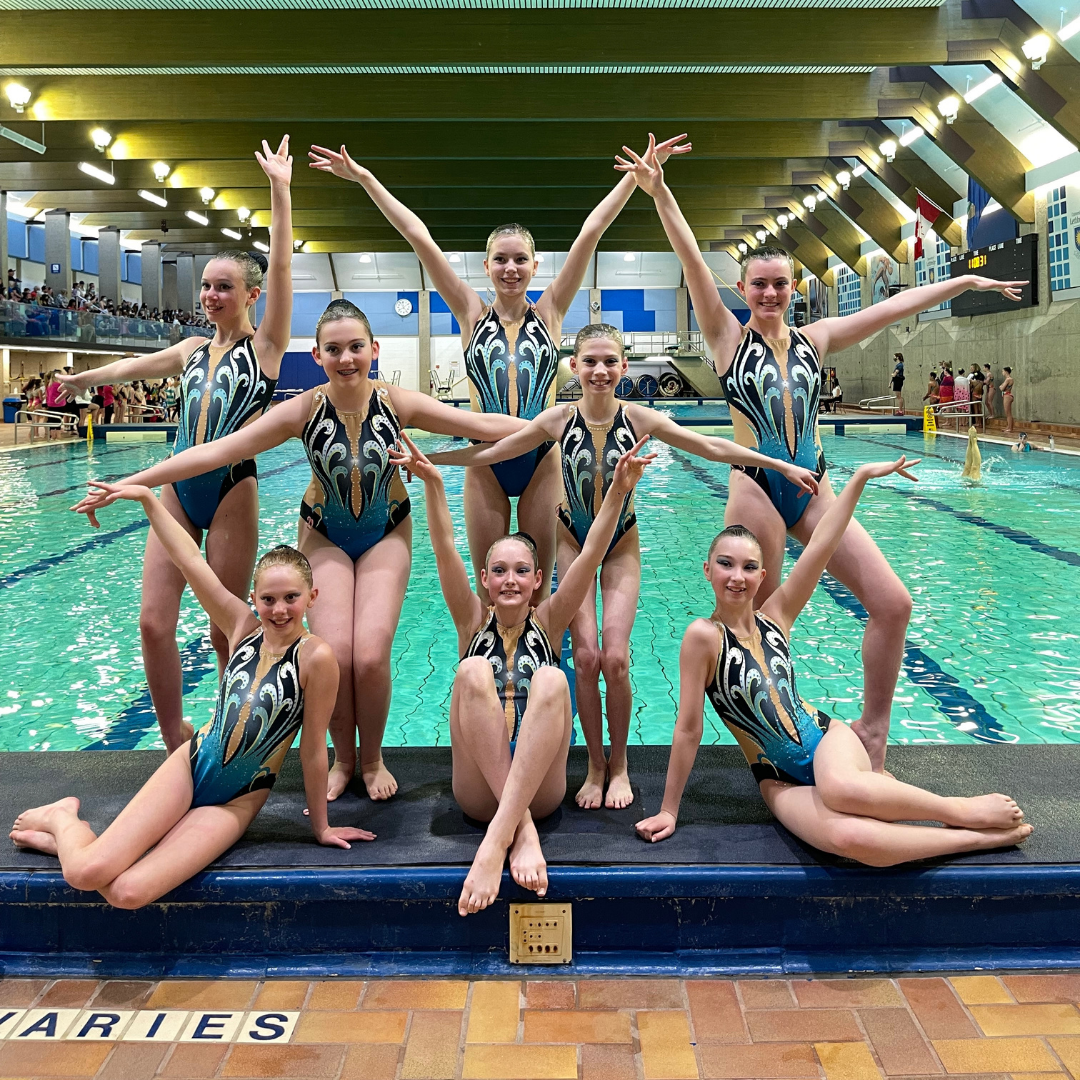 Registration for the 2022/2023 season is open!

Aurora Provincial Competitive teams are organized into age groups. The earliest someone can compete according to Alberta Artistic Swimming (AAS) rules is 8 turning 9 in 2023. Each age group competes in a team routine and figures skills at competitions within the Province. The 16-20 age group does not compete figures, instead they participate in two routines. In Alberta provincial level athletes are also referred to as Wildrose.
Team routines are what most people see on TV - a routine with music in a minimum group size of 4 to a maximum of 10. This is the event where swimmers wear make-up, fancier suits, gel their hair up and wear a nose clip. Figures are skills that are competed individually in front of a panel of 3-5 judges who will flash a score between 0.1-9.9. Swimmers compete in 4 figures at each competition. In this event, swimmers wear black caps, white caps, nose clip and goggles.
The next opportunity to join an Aurora competitive program is when registration opens for September 2022.
First practice is September 7, 2023.
For more details about appropriate levels or more about the sport, see the Auroras Pathways and the Parent's Guide to Artistic Swimming.
If you have any questions about the club, pricing or COVID response changes to our practices, please email headcoach@aurorasynchro.org.
Please note the following when registering your child:
All members will be required to set up an account with RAMP, which you will use to register, pay and view your account invoices.
If you already use the RAMP interface (perhaps through another sport) you will be expanding your profile when you log in, but you do not need to create a new account.
At the time of registration you will need to choose the program you wish to register your daughter in. For example, Wildrose 4x week, National Stream 13-15, etc.
You are required to have a Respect in Sport for Parents certificate number.
If you know the program you want to register for click on the link below, or click the links below to get more information on programs we offer.
New to the sport
Pre-competitive (fall and winter programs)
Current Swimmers
Pre-season camps (competitive swimmers from any club)
Age Group (2022-2023)
Birth Year
Times per week
Location
Training Times
9-10
2013-2014
3x a week
Kinsmen Sport Centre
Monday 4:00-7:00pm
Wednesday 4:00-7:00pm
Saturday 8:00-11:00am
11-12 & Novice
2011-2012
4x a week
Kinsmen Sport Centre
Monday 4:00-7:00pm
Wednesday 4:00-7:00pm
Thursday 4:00-7:00pm
Saturday 8:00-11:00am
13-15/16-20
2008-2010
4x a week
Kinsmen Sport Centre
Monday 4:00-7:00pm
Wednesday 4:00-7:00pm
Thursday 4:00-7:00pm
Saturday 8:00-11:00am

Swimmers enjoy team training and competition, including competing in individual figures skills, travelling to out-of-town meets, plus training other aquatic skills like swimming and diving. Swimmers gain a sense of achievement and team work as they have fun.
The Aurora Advantage:
Aurora competitive athletes participate in ACRO classes with a certified ACRO instructor, swim technique with a former high level competitive swim coach and ballet with a certified ballet teacher.
Events
Pre-season camp Aug 15-18, 2022 (Drop-in available)
Regular season begins Sept 7, 2022
Winter Holidays: December 23 - January 7
Provincial figures competition: Nov 26, 2022 Calgary
The Northern Lights Event (invitational): Jan 26-29, 2023 (EDM)
The Rocky Mountain Qualifier (Provincial qualifier): Feb 24-26, 2023 (CAL)
Wildrose Classic (Provincials): April 20-23, 2023 (EDM)
Water shows occur in December and April Dates are TBD
>Because artistic swimming is a team sport, swimmers are required to attend all events and may not miss practice two weeks prior to an event. Expect that the Friday of the Northern Lights Event, Rocky Mountain Qualifier and Wildrose will require attendance during the day or will require travel.<
Fees and Registration Details for Provincial Competitive Teams
All fees are broken down into 8 payments
Team

Seasonal

Swim

Fees*

Bingo fees

Meet fee

Administration fee

Registration fee

(Paid directly to AAS- Link below)

Security fee

9-10
$2228
$360
$600
$25
$104.16
$500
11-12/Novice
$3065
$480
$600
$25
$104.16
$500
13-15
$3065
$480
$600
$25
$104.16
$500
16-20
$3065
$480
$600
$25
$104.16
$500
Registration details and additional fees
Please note the following when registering your child:
All members will be required to set up an account with RAMP, which you will use to register, pay and view your account invoices
If you already use the RAMP interface (perhaps through another sport) you will be expanding your profile when you log in, but you do not need to create a new account
At the time of registration you will need to choose the program you wish to register your child in - for example, 9-10, 11-12/Novice, 13-15 or16-20. If you have any questions about programming contact the head coach.
TBA other fees
An additional $500 per year security fee will also be charged.
You are required to have a Respect in Sport for Parents certificate number. If you haven't taken the course yet, click HERE.
Link to AAS registration. [Choose Auroras]
*The swimming fees for the entire season (can be paid monthly over 8 months)